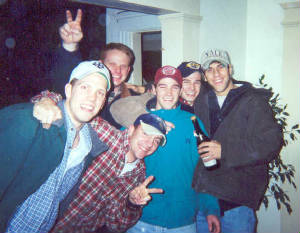 January 1994
Jeff Rotondi, Dan Haarmann, Shaun Oliver, Eric Hood, Dave Hood, and Pete
Summer 1994
Dave Middleton, Pete, Eric Hood, Dave Hood, and Bryan Taylor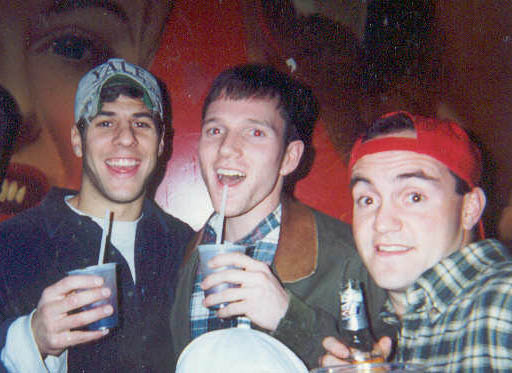 Fall 1995
Pete, John Paulson, and Kris Oliver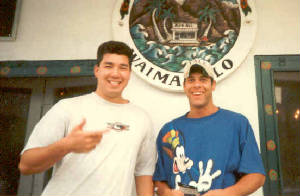 Summer 1996
Jeff Tahnk and Pete in Hawaii
Summer 1997
The Winchester guys on a bar crawl in Boston (front row: Dave Hood, Andy Nolan, Shaun Oliver, Eric Hood, Jeff Tahnk; back row: Dave Middleton, Jeff Rotondi, Pete)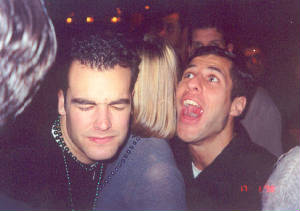 January 1998
Joe Virgilio and Pete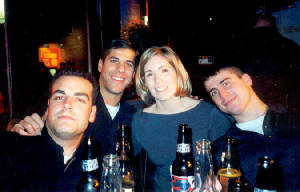 January 1999
Joe Virgilio, Pete, Emily d'Entremont, and Dan Hennessy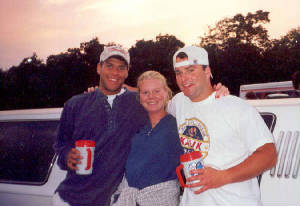 Summer 1999
Pete, Kathryn Wilson, and Dave Middleton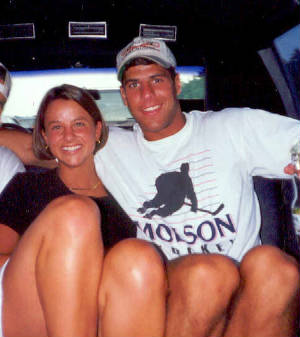 Summer 1999
Diana Grande and Pete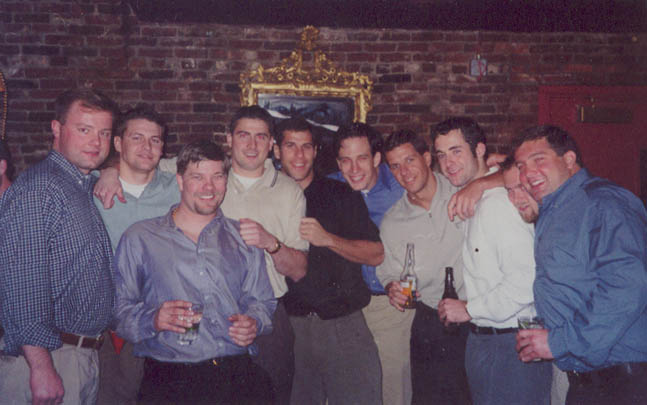 April 2000
Bob's surprise party at the Big Easy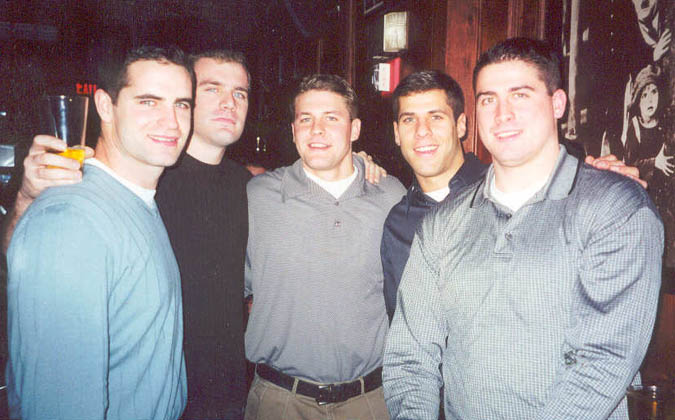 April 2000
Ned Burke, Henry Poydar, Ted Keenan, Pete, and Dan Hennessy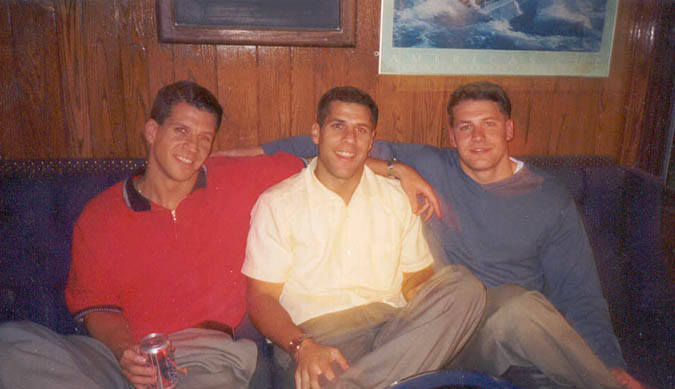 May 2000
Van, Pete, and Ted Keenan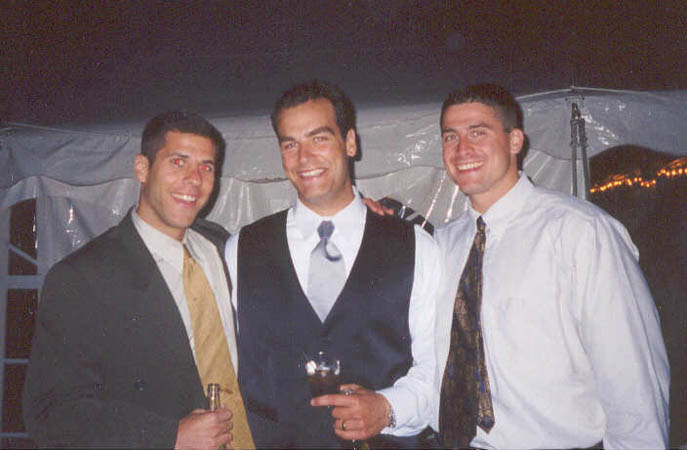 May 2000
Pete, Joe Virgilio, and Dan Hennessy at Joe's wedding reception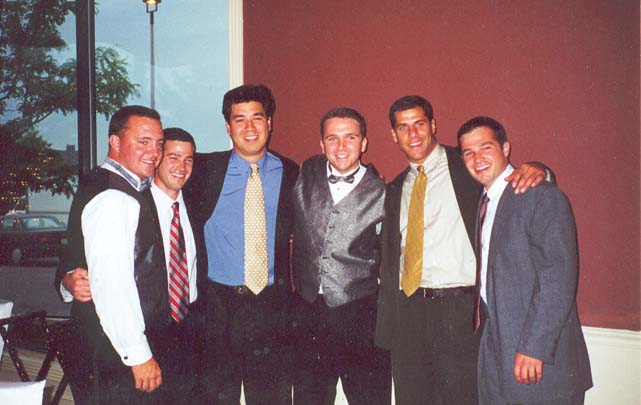 July 2000
Shaun Oliver, Eric Hood, Jeff Tahnk, Andy Nolan, Pete, and Dave Hood at Andy's wedding.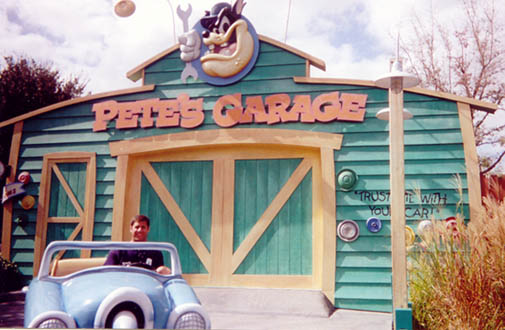 October 2000
From Crissy: Ironic isn't it? Pete always had the worst trouble with his cars. Let's see, there was the station wagon with the wood paneling, the Bronco, the Jeep Wagoneer, the Jeep Wrangler, and then the Mustang. (And you can't tell, but the car he's sitting in has a flat tire!!) This was taken at Disney World during our trip to Florida.
April 2001
Vanessa, Pete, and Raquel Jose at Mardi Gras Party at the Dockside in Boston.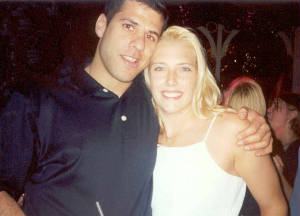 Spring 2001
Pete and Jackie Carr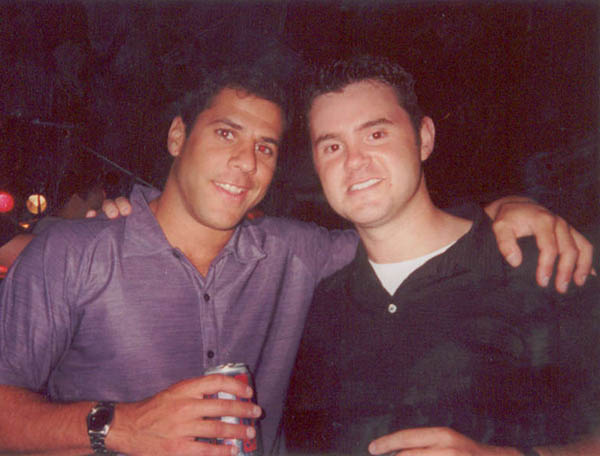 July 2001
Pete and Rob Thatford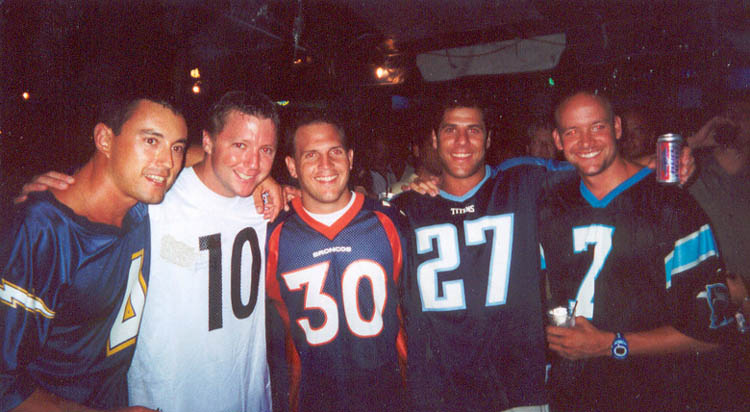 September 2001
Tim Chrystal, Mike Jerauld, Rob Sprague, Pete, and Jon Kalagher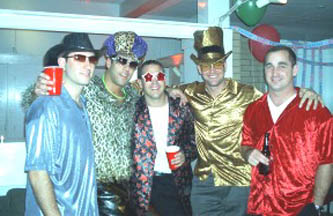 February 2002
Scott Dinneen, Pete, Rob Sprague, Jon Kalagher, and Brian Kelliher at Reagan's birthday party





Summer 1994
Pete and Emily d'Entremont while working as counselors for the Winchester Recreation Department summer camp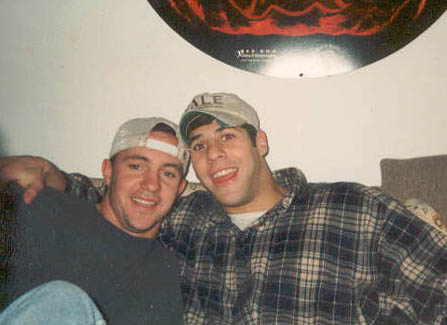 Fall 1995
Shaun Oliver and Pete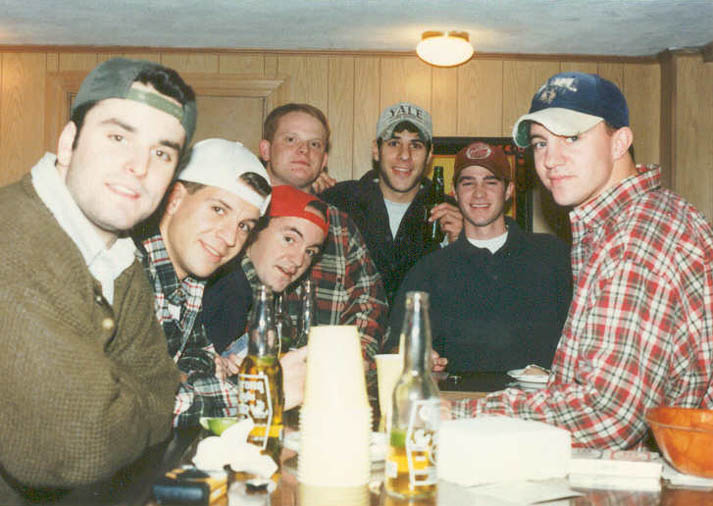 December 1995
Dave Middleton, Van, Kris Oliver, Dan Haarmann, Pete, Dave Hood, and Shaun Oliver on Pete's 21st birthday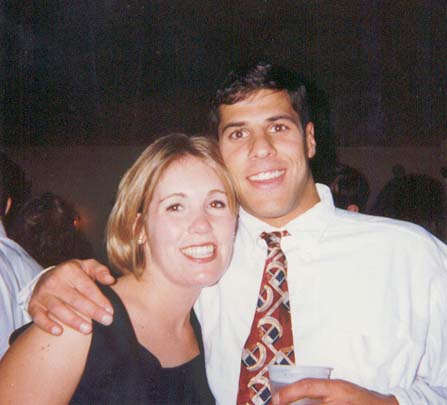 Spring 1997
From Emily d'Entremont: It was Pete's senior year at Colgate. I was dating one of Pete's friends and had flown into Colgate for the Sigma Chi formal. It was at some old house or castle type place and we spent hours dancing. I know at one point that week-end Pete and I actually ended up serving drinks from behind the bar at Peabody's (where Pete worked as a bouncer). It was a great week-end.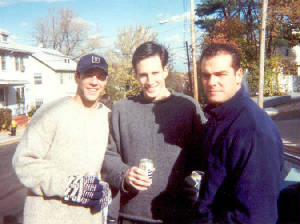 Fall 1997
Pete, Pat Mikus, and Joe Virgilio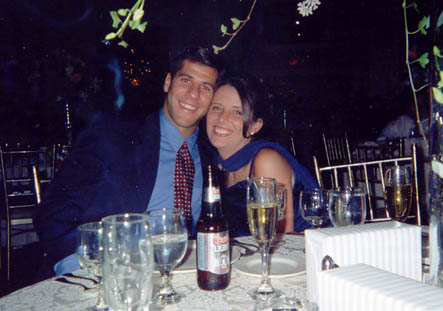 October 1998
From Crissy: This was taken at my sister's wedding in White Plains, NY. Pete was a great sport and drove all the way from Boston just to come. We had only been together for about 2 months. He met my entire family (no pressure though!). Luckily he stayed around...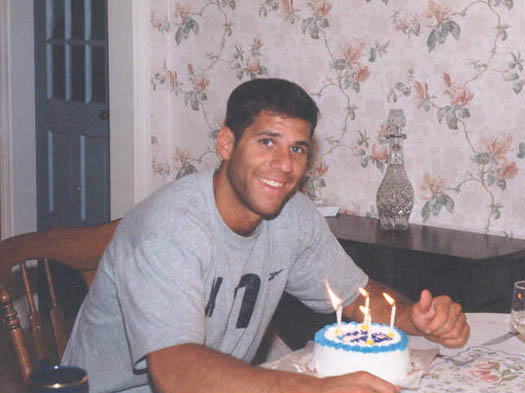 June 1999
Pete on his half birthday (24 1/2)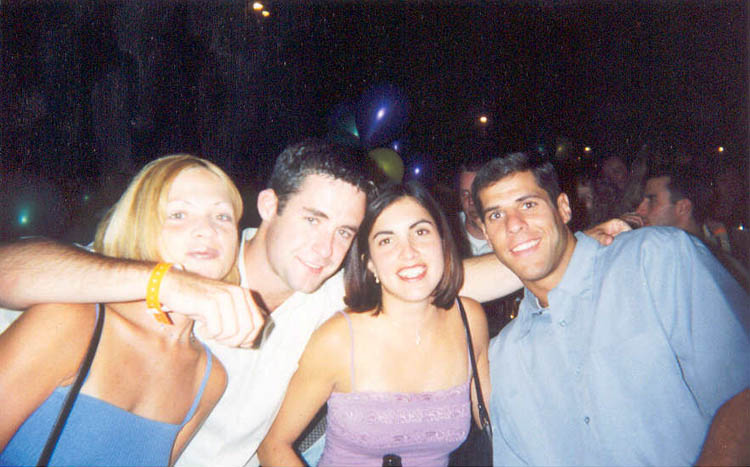 Summer 1999
Megan McAdam, Bob Comerford, Angie Delvalley, and Pete
Spring 2000
Colgate wedding
April 2000
Jeff Tahnk, Kathryn Wilson, Colleen Campbell, Emily d'Entremont, Pete, and Shaun Oliver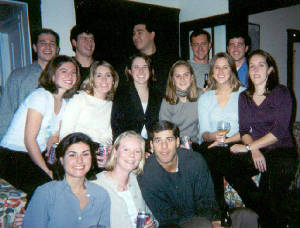 Spring 2000
The Winchester Gang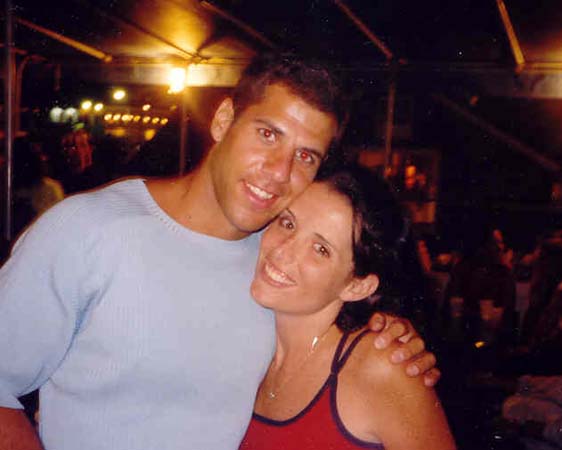 Summer 2000
Pete and Crissy
July 2000
Pete, Shaun Oliver, and Amy Hall at Andy's wedding
February 2001
Pete and Harper Fertig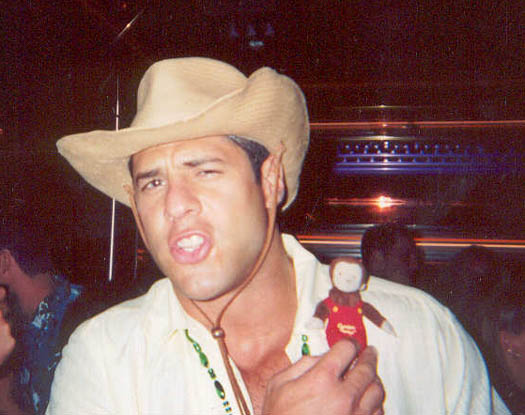 March 2001
Pete and Curious George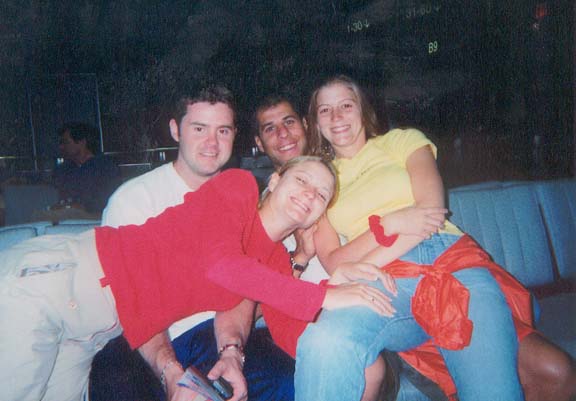 May 2001
Rob Thatford, Pete, Jamie Weaver, and Jenny Weaver at the BWI Airport.
July 2001
Julie DelMastro and Pete
September 2001
Pete and Sheri Ault